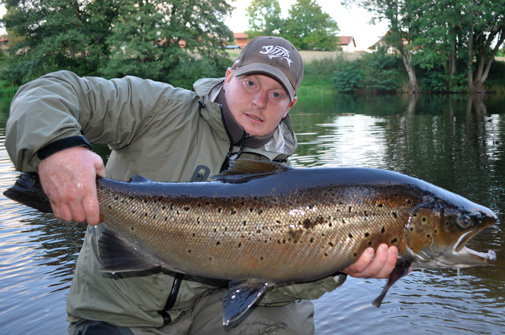 Rasmus Winther Jensen fangede denne flotte havørred på 7,8 kilo med en enhåndsstang i Pool 4 i Mörrumsån.
4.10.2011 – RASMUS WINTHER JENSEN fra Svenstrup var sammen med sin kammerat, Peter Nørgaard Jensen, på deres årlige tur til Mörrumsån i Sverige. Mörrum er verdensberømt for sine store laks, men derudover kan også også levere rigtigt flotte havørreder, hvilket Rasmus oplevede på nært hold den 15. september 2011.
Om aftenen gik de to kammerater en tur ned til Pool 4, og da Peter først skulle have skiftet flue aftalte de at Rasmus startede med at fiske poolen igennem. Rasmus fiskede med enhåndsstang og placerede korte og præcise kast. Allerede inden Peter kunne nå at få bundet en flue på forfanget fik Rasmus et ordenligt hug. Efter en heftig fight på den lille enhåndsstang kunne en dejlig sensommer havørred på 7,8 kilo og 88 centimeter landes!