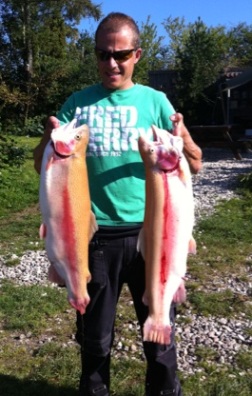 Her står Jonas med sin gulddublé – to guldørreder på henholdsvis 4,35 kilo og 5,25 kilo. Begge taget på en gul og hvid flue. 22-11-11 – JONAS KÆRLIN er en af de trofaste leverandører af fangstrapporter til Fisk & Fri's hjemmeside og til magasinet, hvilket der ikke er noget at sige til med de fangster, som han leverer.
De er som regel ret flotte og spektakulære – som denne fra Poppelsøen i Ballerup sidst i oktober, hvor han fangede to guldørreder i guld-størrelse. Altså, de var begge så store, at de kan udløse to guldnåle i vores P&T storfangerkonkurrence med vægte på 4,35 kilo og 5,25 kilo.
Han beretter følgende:
– Jeg var så heldig at have fri mandag, så jeg havde pakket bilen, lavet kaffe, stået tidligt op og var på vej til kysten. Jeg nåede præcis 1,2 km på GPS´en da bilen døde. Fire timer senere, og meget sur, stod jeg så ved Poppelsøen, for fiskes skulle der jo, beretter Jonas.
– Det blev kun til et par små hug, og da de fire timer var ved at rende ud, blev der bandet lidt langs søen. Pludselig blev der slukket for pumpen, og en stor tyk guldørred dukkede op og huggede næsten med det samme. Da den var blevet afkroget og humøret blevet højt, gik jeg tilbage på pladsen, og der stod sgu en til. Denne fisk huggede også næsten med det samme og var lige nummeret større. Sikke en dag ved putten – og kysten og bilen var glemt et øjeblik, slutter Jonas.