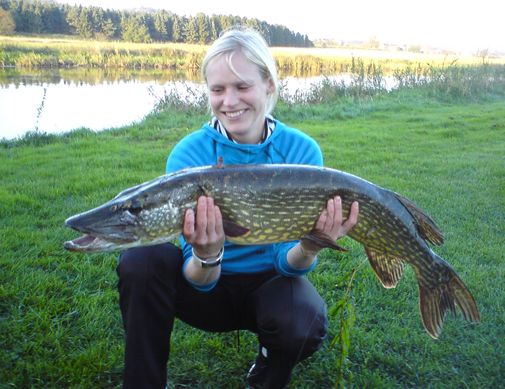 Dorte Vindskov fangede denne flotte gedde på 7,3 kilo som hendes anden fangst nogensinde!
25.10.10 – EFTER FORGÆVES at have været på fisketur sammen med kæresten mange gange kom det heldige øjeblik endelig for Dorte Vindskov, der er bosat Ulstrup. Den 9. oktober var hun og kæresten Kristian Skov taget på fisketur til Gudenåen ved Ulstrup på jagt efter gedderne.
– En kold, men solrig eftermiddag kunne jeg endelig hive min fisk nummer to i land, fortæller Dorte til Fisk & Fri. – Først troede jeg faktisk at jeg havde fået bundbid, men da gedden begyndte at rykke igen må jeg ærligt indrømme, at der gik lidt panik i mig, forsætter Dorte i hendes rapport. Heldigvis kom fisken dog i land. – I land kom den, selvom det ikke var på den mest elegante måde, og en hver erfaren lystfisker ville nok have knækket sammen af grin. Men ingen kunne knække min stolthed den dag, slutter Dorte.
Dortes flotte gedde vejede 7,3 kilo og målte 92 centimeter, og efter billedet blev fisken genudsat til et godt liv i Gudenåen.