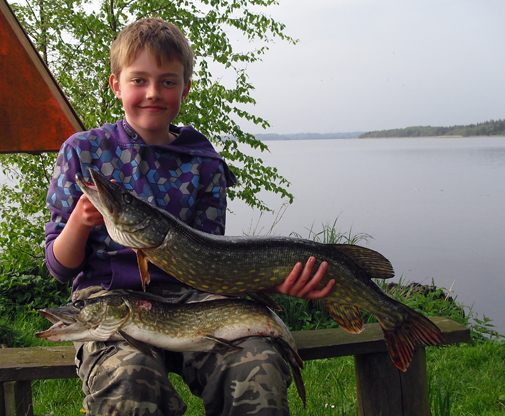 Daniel Carlsen tog den store på 4,4 kilo på en Rapala wobler.25-05-2012 – DANIEL CARLSEN PÅ 10 ÅR fra Langå, var med farmand, Torben Carlsen, som vi fangede en storegedde forleden, taget til Tange sø den 19. maj.
Der var dømt mandehørm med en god dag på Tange sø – tøserne var sat af til pedicure og ansigtsmasker.
Først på dagen skete der ikke det store.
– Vi sejlede ned i den anden ende, og så skete der nået. Det blev til tre stk. gedder og to aborre. Gedderne var på 4,4 – 2,5 og 2,0 kilo. De to af dem skulle farmor have, og den sidste fik friheden igen, fortæller Daniel Carlsen.