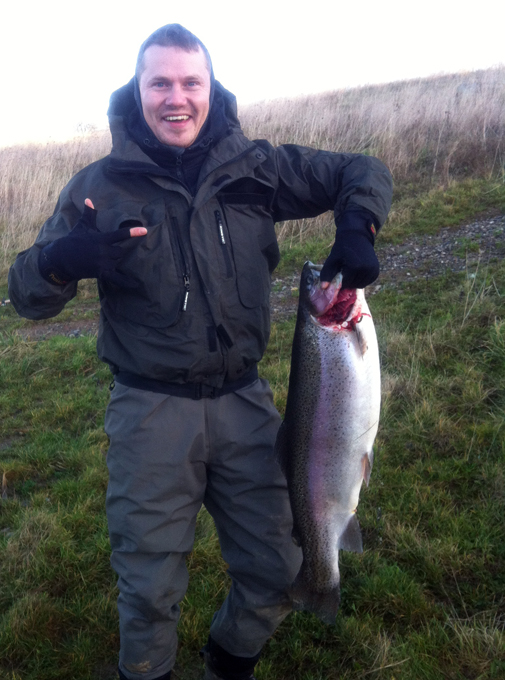 Lars Kristians store ørred på 7,2 kilo huggede på en gang Powerbait Grub i hvid. 19-1-12 – BLUE ROCK klinger nok bekendt for de fleste put-and-take-fiskere. Men for Lars Kristian Jensen fra Svendborg er det nok nærmere kendt. Den 20. december mødtes han sammen med et par kammerater ved søen, hvor det lykkedes ham at fange kvoten på seks fisk – i alt 17 kilo med den største regnbueørred på 7,2 kilo.
– Jeg kom lidt senere ud til søen end mine to venner. Da jeg kom, havde de allerede fanget to fine regnbueørreder. Jeg gik hen til Jan, som stod ved mit yndlingsspot. Efter et par kast gik Jan over på den anden side – jeg blev og tog hans plads. To kast efter huggede den store. Den tog tre udløb på ca. 20 meter, fortæller Lars Kristian.
– Jeg troede først, at min bremse stod meget løst, og at det var en lille frisk ørred, men sådan var det ikke. Da ørreden kom op i overfladen og lagde sig på siden, kunne jeg godt se, at det var en af større.
– Det var en dejlig dag. vi fik alle tre den fulde kvote af fisk med hjem – jeg selv havde fik 17 kilo ørred med hjem, slutter Lars Kristian.