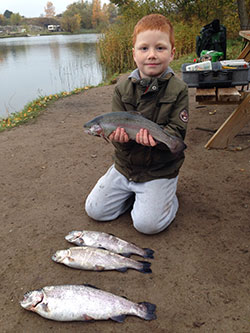 Den 13. oktober var Milo Fillip fra Øster Ulslev på fisketur med familien i Simons Put and Take. Her fangede han unge nevø en stribe fine fiske i børnesøen.
– Jeg var i Simons Put and Take sammen med min far, bror og min nevø, fortæller Milo.
– Vi var tre voksne som havde gode styr på fiskeriet og så havde vi min nevø med. Den unge mand på 9 år havde ikke fisket før, men han klaret det rigtig flot og var meget engageret.
Han fiskede med en lille gul jig efter et bombada i børnesøen. Her fangede han fire flotte ørreder og mistede en hel masse i starten, slutter Milo.