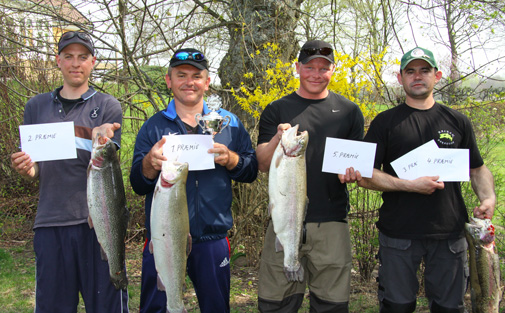 Fisk & Fri's put and take-redaktør, Casper Larsen, var med til St. Rosenbusk Ørredfiskeris fiskekonkurrence skærtorsdag, hvor det lykkedes ham at komme på 3. pladsen.
23.4.2011 – SKÆRTORSDAG var der fiskekonkurrence i St. Rosenbusk Ørredfiskeri nær Slangerup på Sjælland. Fisk & Fri's put and take-redaktør, Casper Larsen, var til stede på konkurrencedagen og kommer her med en frisk melding.
50 glade og forventningsfulde lystfiskere var mødt op for at dyste mod hinanden i det gode påskevejr. Netop det gode vejr med bagende sol og næsten ingen vind gjorde fiskeriet svært i løbet af dagen. Alligevel lykkedes det for flere af deltagerne at fange flotte ørreder rundt omkring søen. Især Fisk & Fri's Casper Larsen havde en god dag med 8 flotte fisk på land, hvor den største vejede 4,7 kilo og rakte til en 3. plads. Dagens største ørred vejede 5,3 kilo og huggede på et gennemløbsblink.
Der var masser af fine fisk at spotte i det fine solskinsvejr og søen er netop nu fyldt med friske påske ørreder, så pak grejet og kom ud og nyd det gode vejr. Og husk at det godt kan betale sig at være tidligt ude!