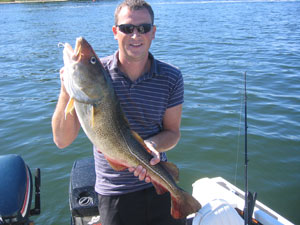 Denne torsk blev dagens største og skabte glæde i båden. OLE B. PETERSEN fra Brande var i lørdags (d. 30. august), som så ofte før, på fisketur i Lillebælt med sin ven Arnold og sin søn Emil på 7 år. Ole skriver følgende om dagen:
Vi fiskede fra Arnolds båd og vejret var totalt stille, solrigt og uden strøm. Efter at have fisket mange gange på Lillebælt, var mine forventninger ikke de største, da man på denne årstid jo skal være noget heldig, for bare at fange en torsk på et par kilo. Efter at have fisket adskillige timer, uden andet resultat, end et par undermålere, skulle vi lige prøve en sidste gang ved den gamle bro, inden vi satte kursen hjemad.
Stor var min overraskelse, da jeg så fik et hug, der mest af alt mindede om et bundbid. Efter en kort, – men intens – kamp, så vi fisken i overfladen og Emil stod klar med nettet, men det var på ingen måde stort nok, så vi måtte have fangstkrogen i brug. Da vi var kommet hjem – en fiskeoplevelse rigere – kunne vi så konstatere, at en torsk på 6 kilo. og 87 centimeter, havde været hele turen værd.