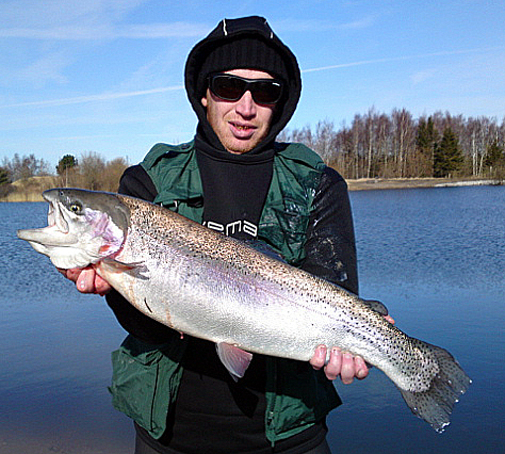 Michael Pedersen tog denne 5,34 kilo tunge regnbueørred i Simons med en 6′ fods stang og en gul/sort 12 grams gennemløber.10-03-2012 – TIDLIGT UDE DEN 3. marts startede Micheal Pedersen fra Skibby sit fiskeri i Simons Put and Take – Put and take præmieren for hans vedkommende i 2012.
Han startede med synkende bombarda og Powerbait, men da andre fiskere begyndte at få noget på land med gennemløbere, skiftede han til en 6′ fods stang og en lille 12 grams gennemløber.
Et set-up der skulle stå sin prøve med en flot 5,34 kilo regnbueørred på 73 centimeter der huggede helt inde ved land.
Der var smæk på det lette grej, som var presset helt i bund, da fisken tog lange udløb.
Men på land kom den da til sidst!