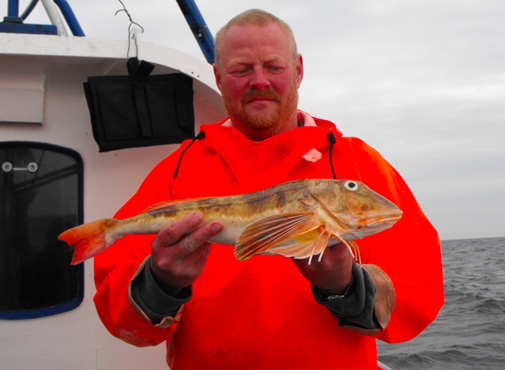 Michael Kærgaard fangede denne store røde knurhane ombord på M/S Nordsøen. Det var ærgeligt, at fisken blev renset inden den blev vejet, for fisken kunne have været en ny dansk rekord.
10.9.2011 – MICHAEL KÆRGAARD var den lørdag den 3. september på havfiskeri med M/S Nordsøen, der sejler fra Hanstholm. Her fangede Michael en stor rød knurhane der kunne været en potentiel danmarksrekord.
Fisken blev desværre først vejet efter den var blevet renset, for Michael var nemlig ikke klar over hvor stor fisken var for sin art! Den store røde knurhane blev vejet til 1500 gram i renset vægt på en Bismervægt, men bruger man omregningstabellen fra Fiskeridirektorartet kunne fisken have vejet 1755 gram urenset. Fisken var 50,5 centimeter lang.
Den 13. august i år blev der landet en anden rekordstor rød knurhane. Den blev fanget af Ulrik Brøndberg i Nordsøen og vejede 1,68 kilo. Den officielle danske rekord er stadig Casper Mølgaards fangst fra 2006 på 1,633 kilo.