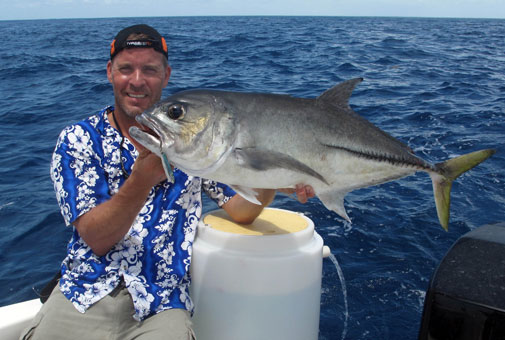 Også udenlandske tropefisk er glade for danskproducerede agn. Her er det Mads Grosell med en horseeye jack på 22lb, som ikke kunne modstå en Savage Gear Pencil Prey110 – En ny agn der kommer på markedet i 2010.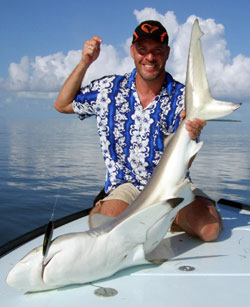 Mads Grosell med en haj fanget på en Savage Gear Freestyler, som åbenbart fungerer fint til andet og mere end danske gedder. 08.08.09 – PRODUKTUDVIKLER for Savage Gear, Mads Grosell, er for nyligt hjemvendt fra en tur til Florida, hvor det er blevet til to dages fiskeri over flatsne fra båd i selskab med sin bror, Martin.
På førstedagen, som blev spenderet med fiskeri over Bay Flats, blev det til eksotiske arter såsom snook, spotted trout, redfish og en overraskelse i form af en tipped reef shark.
På andendagen sejlede de to brødre ud over dybere vand på udkig efter store jacks. Også denne tur blev en stor succes med flere forskellige hårdtfightende jack-arter og masser af vanvittige fights over det dybe vand.
Vil du læse mere om turen, så tjek www.savage-gear.com ud.