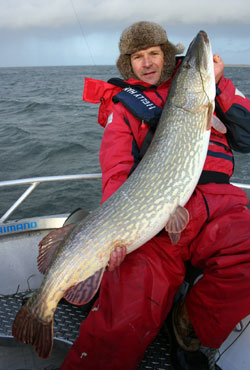 Simon med turens største gedde – en krabat på hele 15,7 kilo. 16.12.09 – SPORT DRES kunne i år mønstre 17 deltagere på deres tur til Rügen. De måtte udholde hårdt vejr og svære forhold, men det til trods blev der i alt landet 104 gedder eksklusiv de fisk der blev fanget af guiderne fra Bodden Angeln. Største fisk på hele 15,7 kilo stod Simon for, og det var en massiv gedde på 125 centimeter, som blev fanget på en 23centimeter lang perlemor/sort shad fra Shadxperts.
Der var mange kontakter hver dag, fortæller arrangørerne. – Det hårde blæsevejr havde gjorde vandet voldsomt grumset og mange af gedderne huggede fejl, så for hver fisk i båden havde man i snit haft tre hug. Udover 15 kilos gedden blev der taget to gedder på 12 kilo og to på 11 kilo og især store shads og Alien Eels viste sig effektive.
Vil du med på næste tur til Rügen og opleve et fantastisk geddefiskeri med chance for monsterfisk, så slå et smut forbi www.sportdres.dk eller ring til butikken og forhør dig.