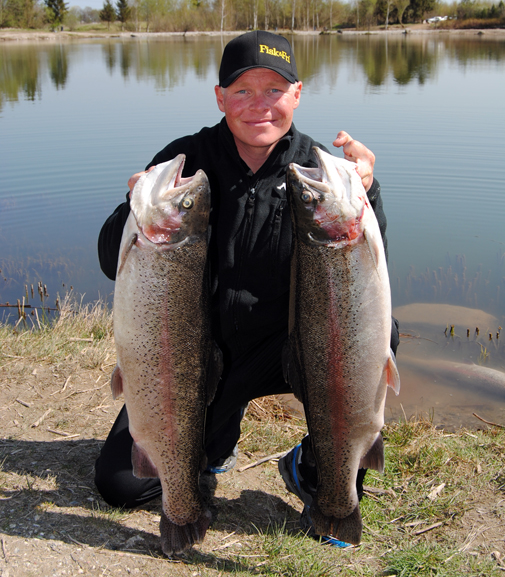 Casper Larsen med fantastisk duo på 6,75 og 7,25 kilo fra den 30. april – oven Jan og Bo's konkurrence i Simons den 28. april. Af Casper Larsen
EFTER LØRDAGENS store succes, hvor undertegnede vandt konkurrencen, Jan & Bo's Put & Take Cup, i Simons Put and Take med en kæmpe regnbueørred på 9,5 kilo, måtte jeg ned og se om der stadig var store fisk tilbage.
Hvad jeg lige kunne regne mig frem til, skulle der endnu være mere end 500 kilo store fisk tilbage i søen, så det må man kalde en reel chance!
I løbet af fisketuren fangede jeg disse to store flotte regnbuer, som fik vægten helt op på henholdsvis 6,75 og 7,25 kilo!
Ydermere tog min fiskebuddy, Nikolaj, en rigtig grov fisk på hele 8,4 kilo, som nuppede hans gule Powerbait.
Så endnu en kanon tur til Simons, hvor der stadig svømmer en fisk på +10 kilo rundt og venter….