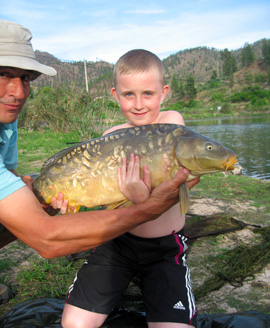 Lidt hjælp måtte Lukas have for at holde sin personlige rekordfangst op til fotografering.26.6.2011 – UNDER EN FAMILIEFERIE til Gran Canaria fik Lukas Bak Aastrup på 8 år sammen med sin far, Allan Bak Aastrup, mulighed for at tage på karpefiskeri med en guide i en af søerne i bjergene. Hverkan far eller søn havde fisket efter karper før, så de var begge to spændte på dagens fiskeri.
Taklerne blev sammen med forfoderet blev sejlet ud på pladserne med en fjernstyret bait boat, og herefter var det bare at vente for Lukas og Allan. Ventetiden føltes lang, også selvom de hyggede sig med at fange et par mindre black bass i ventetiden. Lukas' hidtil største fangst var en torsk på 7,5 kilo fra Danmark, og målet for turen var at slå denne rekord.
Efter nogle timer kunne Lukas endelig lande den første karpe på turen. En fin spejlkarpe på 7,5 kilo – målet var derfor ikke helt nået endnu – men kort efter fik Lukas endnu et hug. Det var endnu en spejlkarpe, men denne gang var fisken lidt større. Da fisken blev vejet viste vægten 8,0 kilo rent, og efter fotografering og genudsætning dansede Lukas en sand sejrsdans af glæde over sin nye personlige rekord!