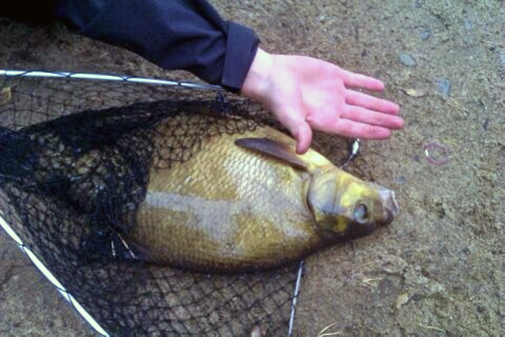 God brasen på 2,2 kio huggede på et lille hyggesats i Slåensø, hvor en orm lokkede fisken til hug. FREDERIK BRUUN OG MADS BERGMANN var den 15. september taget til østenden af Slåensø nær Silkeborg. To af stængerne var rigget til bundfiskeri med gennemløbersynk med en stopper en halv meter line og én krog.
– Vi havde ikke fanget andet end små aborrer i de første to timer, men pludselig begyndte linen at blive helt stram, bremsen begyndte at klikke hurtigt og vi kunne mærke, at der var virkelig var noget stort på. Det dernede trak hurtigt fra side til side, stangen bøjede heftigt, men efter flere udløb kom der noget stort op til overfladen, som plaskede heftigt. Det var en stor flot grå grøn brazen, som vi fik i land, fortæller Frederik og Mads.
Den landede brasen veje 2,2 kilo.