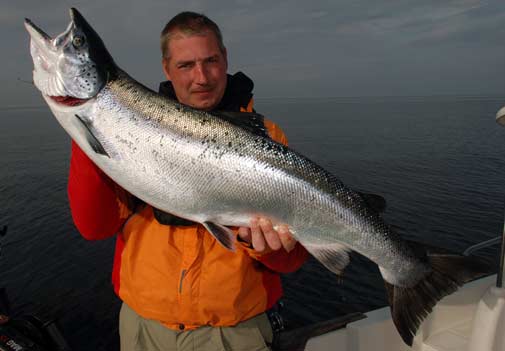 John Hansen med sin anden 12+ Møn laks på to ture. Denne fisk blev ligesom den første fanget på en Savage Gear Herring Spoon.
17.04.10 – LAKSETROLLINGFISKERIET omkring Møn kan være rigtig godt, men man skal være på pletten, når det går løs, og derudover skal man have den nødvendige skarphed. John Hansen må siges at have begge dele. For ikke længe siden, fik han en lynende flot trollinglaks på 12,5 kilo ved Møn, og nu har han været af sted igen.
På turen oplevede han et sandt dejavu, idet hans stang pludseligt krøllede sammen under vægten af en massiv laks, der huggede på nøjagtig samme dybde, på samme stang og samme Savage Gear Herring blink, som havde givet fisk på sidste tur. Efter en længere kamp, kunne han presse fisken til overfladen, hvor bådmakker Søren Larsen kunne nette fisken – en pragtlaks på 12+ kilo.
Se mere på www.savage-gear.com