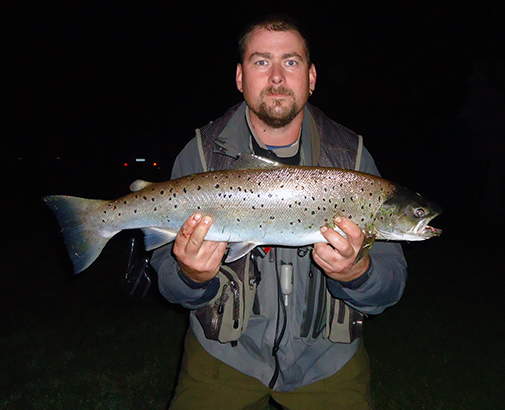 Michael Hansen fik hans anden sommerhavørred på 4,3 kilo blot to dage efter, at han tog den første. Begge fisk var fra Karup å.
01-08-2012 – FORLEDEN KUNNE VI berette om Michael Hansen og hans fangst af årets første sommerhavørred fra Karup å. Når først koden er knækket, fiskene er der og man samtidig har mulighed for komme til åen – så er det bare at komme af sted.
Michael Hansen var således taget af sted til Karup å den 20. juli, hvor han oplevede en å i et mere imødekommende hjørne, idet der var masser af liv i åen. Der var fisketræk, fisk ude af vandet og der var en havørred, der ret hurtigt forbarmede sig over hans sorte rørflue. Inden midnat var den første havørred på land – denne gang én på 4,3 kilo med en længde på 73 centimeter.
Senere på natten rejste han yderligere to fisk til, men det var kun den ene som tog fluen.