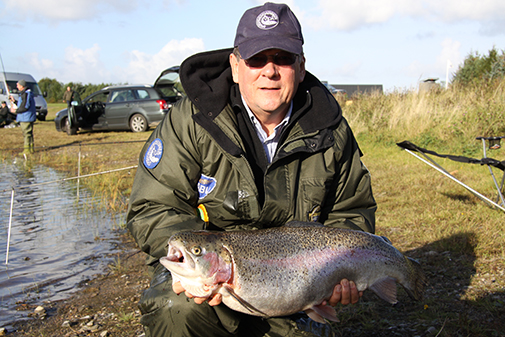 En strategi med to stænger gjorde, at Hans Christiann Søndergaard løb med 2. pladsen i Rødekro Fiskeparks konkurrence. Regnbueørreden på 6,77 kilo huggede på Powerbait.HANS CHR. SØNDERGAARD fra Tønder var den 12-14 oktober troppet op i Rødekro Fiskepark til konkurrencen. Han er relative ny i fiskehobbyen , men er er ung af sind, trods sin efterlønsalder.
-Jeg køber gerne to stænger i P&T. Jeg har gjort mig den erfaring, at prop og Power Bait fisker ganske fint tæt på land, men ca. 10 meter fra en selv. Så er der nemlig fred og ro. Power Bait og bombarda fisker jeg med den anden stang. Min strategi lykkedes da også til fuldkommenhed. Den "stille" stang blev pludselig meget levende, og proppen var forsvundet fra overfladen. Jeg kunne godt mærke, at det var en fisk af en vis kaliber i den anden ende. Efter fem minutter var den i nettet. Glad og stolt gik jeg til indvejning med fisken. En regnbueørred på 6,77 kg. 71 centimeter. Det blev til en 2. plads., slutter Hans Christian.

Fra nu og indtil 1. november har alle indsendte fangstrapporter chancen for at blive vinder af Fisk & Fris Kaffe Cup. Vinderen, som kåres på www.fiskogfri.dk den 1. november, får 12 pakker af den nye feinschmecker instant kaffe – Millicano fra Gevalia. De indsendte fisk deltager også i Fisk & Fris øvrige konkurrencer.