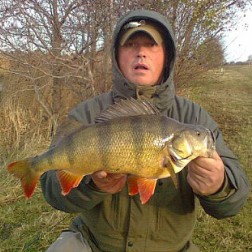 Rene Stabll med årets anden aborre over to kilo. Dette eksemplar vejer 2,125 kilo og kunne ikke stå for hans drop shot jig.
RENE STABLL har lige sendt os denne rapport fra St. Vejleå, hvor han den 26. november fangede en aborre i den sjældne tokilos kategori:
– En tur til det årlige Andefiskeri gav denne store aborre. Den er nummer to i år over den magiske vægtgrænse på to kilo, beretter Rene.
Det var under årlige konkurrence arrangeret af Ishøj fiskeklub, at han fangede aborren på 2,125 kilo med en længde på 50 centimeter. Aborren huggede på en drop shot jig.