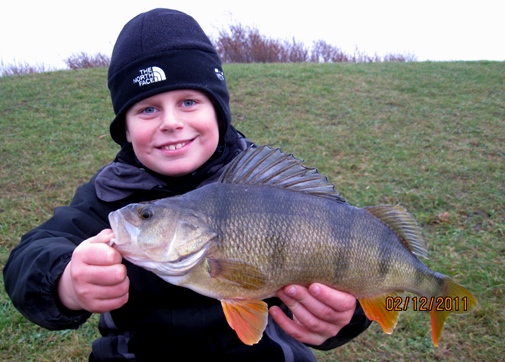 Julius fangede denne aborre på 1,0 kilo på en grøn jig den 2. december i St. Vejleå. Dagen bød på i alt otte aborrer – med to over kiloet. 6-12-11 – UNGE JULIUS PETERSEN var sammen med sin far taget til St. Vejleå den 2. december for at afprøve aborrefiskeriet for første gang. Vejret var ikke det bedste. Der skete ikke meget i starten. Efter en times fladt hugget.
– Jeg troede først, at det var bunden, men da fisken i samme sekund tog udløb vidste jeg, at det ikke var bunden, men en god aborre, fortæller Julius og fortsætter.
– Fisken gik dybt og pressede mit lette grej i bund. Den kæmpede godt. Min far nettede min første aborre og sikke en flot fisk med de røde finner. Fisken blev vejet på en Super Samson vægt og den vejede 1,0 kilo, slutter Julius.
Efter fotografering blev fisken nænsomt genudsat. Julius fortæller også, at fisken blev fanget på en grøn jig.
Dagens totale fangst blev på otte aborrer med to på kiloet.