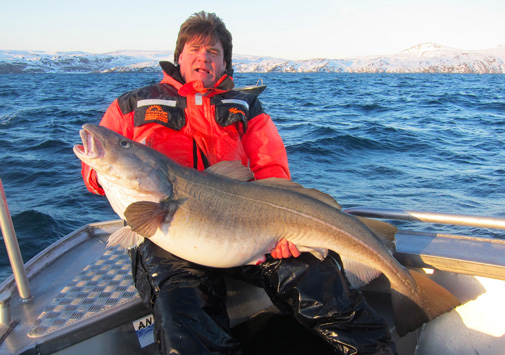 Lars Christensen en fantastisk torsk på 28 kilo. Dette er den største fisk ud af de 95 målere, der kom i båden denne dag!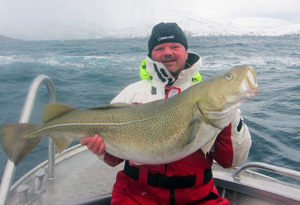 Steen Lyngsø med en 20,5 kilos torsk fra Nordnorge, der ikke kunne stå for en Savage Gear Herring Cutbait.26.3.2011 – FISKERIET efter de store skrei torsk er for alvor i gang i det Nordnorske, og der er allerede fanget flere fisk over 30 kilo i år. To af storfangerne er Steen Lyngsø og Lars Christensen, der for nyligt er hjemvendt fra en tur.
Steen, Lars og to andre fiskere havde et ekstremt godt fiskeri med rigtig mange fisk i båden – blandt andet fik de 95 målere på én dag til fire mand! Lars Christensen fangede 30 målere (red. torsk over 10 kilo) på den førnævnte dag, toppet en rigtig god fisk på 28 kilo, og Steen stod for 29 målere op til 20,5 kilo. På turen blev der dog taget fisk på helt op til 33 kilo!
Agnen, der stod for langt de fleste af fangsterne, var Herring Cutbait-jiggen på 25 centimeter og 460 gram fra Savage Gear. I solskin havde lystfiskerne stor succes med jiggen i en selvlysende farve, mens farven Real Herring var fortrinlig under dårligere lysforhold.