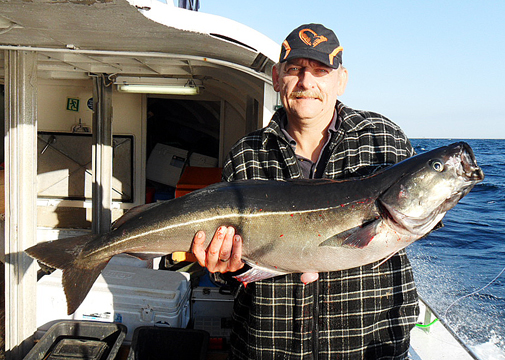 Frank L. Pedersen fik en flot sejdublé – to stk. over 12 kilo i Skagerrak da han var M/S Bodil på tredages tur.25-08-2012 –MIDT I AUGUST var Frank L. Petersen fra Ruds Vedby på intet mindre end en tredages tur med M/S Bodil fra Thyborøn. Der var masser af fiskevenner om bord og fisk kom der også i båden fortæller han:
– Vi sejlede op i Skagerrak den første dag, hvor der var med masser af storsej. Personligt fik jeg selv to stk. på over 12 kilo – præcis 12,4 kilo og 12,1 kilo. Og masser af sej på syv-otte kilo ligeså, fortæller Frank
På andendagen sejlede de mere vest på og fiskede på vrag. Her blev der fanget havkat, lange, torsk, lubber, kuller, rødfisk, slimål, hvilling og makrel.
Sidste dagen forgik på 40-50 meter vand, hvor flere arter som rødspætter op til 1,2 kilo, ising,tobis,hestemakrel,grå knurhane og en ulk kom på listen. 16 arter i alt!