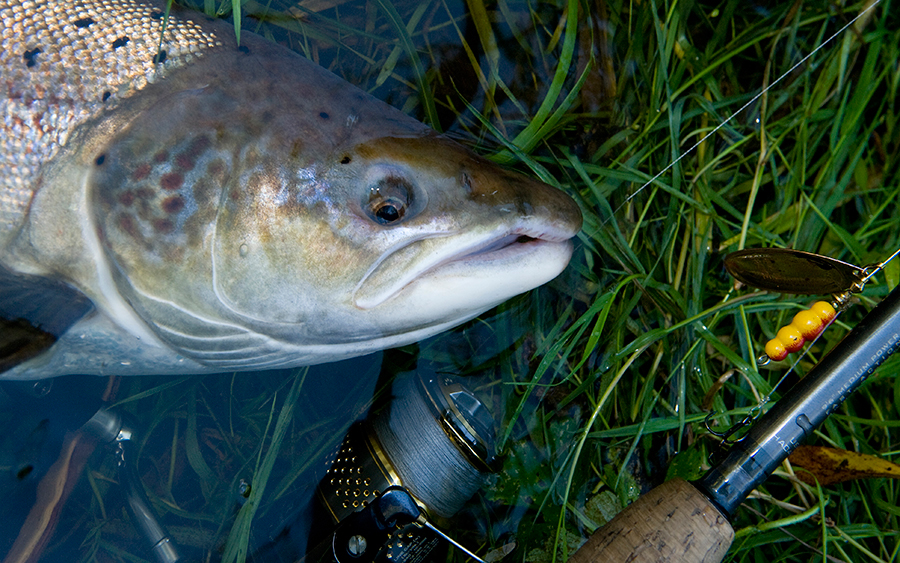 Hvert fjerde år afholdes World Recreational Fishing Conference, hvor forskere og biologer fra alle verdens lande mødes for at fremlægge og diskutere de seneste forskningsresultater indenfor lystfiskeri – samt forvaltning af sportsfiskeri og fiskepopulationer.
Jens Bursells artikler om nye takler og afkrogningsmetoder, der ikke blot er mere effektive, men også mere skånsomme end de traditionelle teknikker, har med publicering i 10 sprogområder vakt stor international opsigt. I forbindelse med dette er Jens inviteret til at give to præsentationer af sine resultater på konferencen, der løber af stablen den 16-20 juli på Vancouver Island i British Columbia.
På konferencen tager Fisk & Fri pulsen på de seneste strømninger inden for bl.a. catch & release – samt forvaltning af sportsfiskeri – og vender tilbage med en dugfrisk rapport i september udgaven af bladet. Læs mere om konferencen på www.wrfc8.com
Her kan du læse oplæggene til de to præsentationer, over hvilke der pt er ved at blive udarbejdet to videnskabelige artikler om emnerne i samarbejde med professor Robert Arlinghaus fra Leibniz-Institute of Freshwater Ecology and Inland Fisheries & Humboldt-Universität zu Berlin:
" A terminal gear innovation in lure fishing strongly improves landing rates and reduces injury and unhooking time in brown trout and northern pike, with implications for catch-and-release fishing"
Optimal choice of terminal gear in hook-and-line fishing shall maximize landing rates and minimize injury to the fish. We hypothesized larger hooks on artificial lures to cause impaired penetration and hookhold leading to
lower landing rates, plus increased degree of injury and bleeding compared to smaller hooks on the same lure types. To test these hypotheses, we present observational large-N data comparing traditional lures with the same lures fished on so-called release-rigs, where it is possible to drop down 4-5 hook sizes on any type and size of lure. Using this rig, the landing rates of searun brown trout (Salmo trutta) and northern pike (Esox lucius) doubled from about 40 % with traditional artificial lures or flies to about 85 % when the same lure types were fished on release-rigs. In pike, the traditional mounting techniques with larger hooks also produced significantly more injury and significantly elevated dehooking time compared to release rigs. The latter also allow keeping deeply hooked fish under water while dehooking with a pushback-disgorger. To conclude, release-rigs on artificial lures benefit both anglers and the fishes that are to be released and overall offer a substantial innovation over traditional techniques.
Singles vs. treble hooks – potential tissue damage and unhooking techniques in brown trout.  
The supposed advantages of single over treble hooks in relation to injury are often discussed without considering the effect of h
ook size and unhooking techniques: When shifting from treble to single on a lure of a given size anglers will often choose singles 3-4 hook sizes larger to compensate for the smaller effective hook gape. This could cause more damage than initially believed. Based on hook measurements, we calculated potential depths and volumes of hook wounds from singles and trebles, finding that the hook wounds from singles can be 30-100 % more severe than those of trebles fished traditionally on same lure. The situation further deteriorates when microtrebles are fished on novel mounting techniques on artificial lures. Moreover, by overlaying different-sized hooks on X-ray photos in 1:1 from cross-sections of trout heads, we document that large singles can penetrate through the soft layers between the palate bones into critical areas such as brain and eyes of < 50 cm trout (Salmo trutta). By contrast, small trebles with shallower hook holds are physically not capable of reaching such vital tis
sues. Large singles are also more difficult (flies/natural bait) or even impossible (splitring-mounted artificial baits) to be removed with a pushback disgorger while the fish is submerged under water. Depending on the rig used, this can be possible with small trebles fished on lures.  These results suggests that a more detailed focus on fishing methods, hook sizes and unhooking techniques is warranted when evaluating the welfare-benefits of hook types.