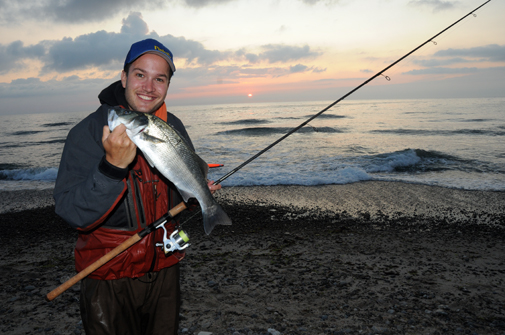 Gordon Henriksen er vild med fiskeriet på Thy's kyster, men er på ingen måde lokalekspert. Det er Casper Mølgaard til gengæld, og de to holder foredrag sammen på Strøget den 19. juni til "Thy på Strøget".KOM OG HØR mere om Danmarks mest alsidige og uberørte lystfiskerområde: Thy.
Der er foredrag til Thy på Strøget – d 19 juni kl. 15:00
Gordon P. Henriksen fra Fisk og Fri, fortæller en inspirerende historie om hans første møde med havbarsen og Thy. Han lægger op til en spændende og informativ fortælling fra en lystfisker, der ved der ved en hel masse om lystfiskeri i havet, Det Gule Rev, fjorden, åerne og søerne i Thy, nemlig Casper Mølgaard.
Casper vil fortælle om sin livslange passion for og med lystfiskeri i Thy. En spændende kombination af fortællinger fra to forskellige anskuelser, der forhåbentlig kan begejstre lystfiskere i alle aldre.
Samme dag vil der blive præsenteret den nye bog – Fiskeruten Thy Mors – et gennemarbejdet "værktøj" til alle lystfiskere som besøger Thy, hvad enten de er inkarnerede eller helt almindelige lystfiskere.
Mere info her!