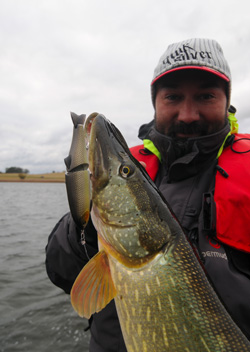 Frederic Julliane fra ILLEX holder to foredrag i Danmark – mød op og lær noget.DEN FRANSKE predator specialist Frederic Julliane fra ILLEX og Pezon & Michel/Gunki kommer igen til Danmark og afholder to arrangementer, hvor alle er velkommende.
Han taler perfekt engelsk, og han er en af de mest velkendte Predator Specialister i Europa.
Du har måske også set i i Pike Secrets. Han vil dele ud af sin store viden omkring predator fiskeri og give tips og råd til hvordan du optimerer dine fangster.
Derudover vil han vise mange nye spændende produkter fra ILLEX og Pezon & Michel/Gunki, som er helt unikke og forklare, hvordan de skiller sig ud fra resten.
– Den 3. maj vil han være i Ballerup Fiskemagasin fra kl 12-17 og butikken køre med særligt gode tilbud på dagen.
– Den 5. maj vil han være i Sørup sø på Fyn fra kl. 13.30, hvor han vil demonstrere forskellige produkter ved søbredden, og Henrik fra Predator Sportfishing vil være der med gode tilbud på dagen og være vært med grillpølser, øl og vand.
Alle er velkommende ved begge arrangementer.
Dette er noget, du ikke må gå glip af – han er en fantastisk personlighed, som kan give alle fiskere en oplevelse, gode tips og idéer med på vejen – uanset dit nuværende niveau.