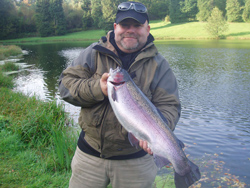 Der er regnbueørreder som denne du kan se frem til på turen til Norrefors Put & Take med Jan's Lystershop.5.8.2011 – JAN'S LYSTFISKERSHOP arrangerer en rendyrket fluefisketur til Norrefors Put & Take i Sverige. Turen løber af stabelen den 20. og 21. august 2011, og du kan stadig nå at komme med.
Fiskeriet er udelukkende fluefiskeri og foregår i to søer og 1 kilometer å, der indeholder fine regnbueørreder med en gennemsnitsstørrelse på omkring de to kilo. Der er afgang fredag den 19. augst klokken 16.00 fra butikken i Ndr. Frihavnsgade 47B, 2100 København Ø, hvorfra der vil blive arrangeret fælleskørsel. Prisen for fiskeriet er 1800,- kroner og udgifter til maden deles deltagerne om. Der er plads til i alt 12 mand, og der er stadig 7 pladser ledige, så skynd dig at tilmelde dig til turen hvis du er til skøn natur og hidsige regnbueørreder.
Tilmelding sker hos Jan's Lystfiskershop på telefon 35 26 89 70 eller 22 24 38 93 eller på email, jan@janslystfiskershop.dk.