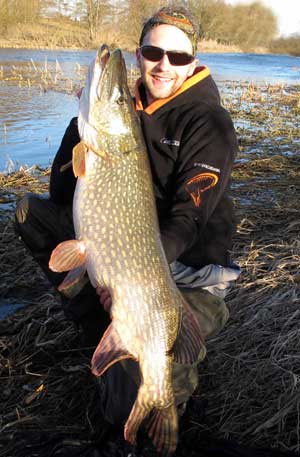 Jacob Stenlund med hans flotte 14 kilos gedde. Fisken faldt for en Freestyler jerk bait i farven Firetiger. JACOB STENLUND har netop været et smut i det svenske for at jerkbait fiske sammen med hans bror Peter. De to havde et fint fiskeri, og i særdeleshed Jacob skulle vise sig at have heldet med sig.
Ikke nok med at han på sidstedagen fangede en 10,2 kilos gedde på broderens stang under et par testkast, derudover fangede han også turens ubetinget største fisk – en rigtig basse på 114 centimeter og 14 kilo. Den massive fisk blev ligesom fisken på 10,2 kilo fanget på en Freestyler jerk bait i farven Firetiger.
Gedden tog agnen helt inde foran Jacobs fødder, og da den knap nok nåede at opfange, at den var kroget, havde Jacob den i nettet i løbet af ingen tid.
Se eventuelt mere her: www.savage-gear.com