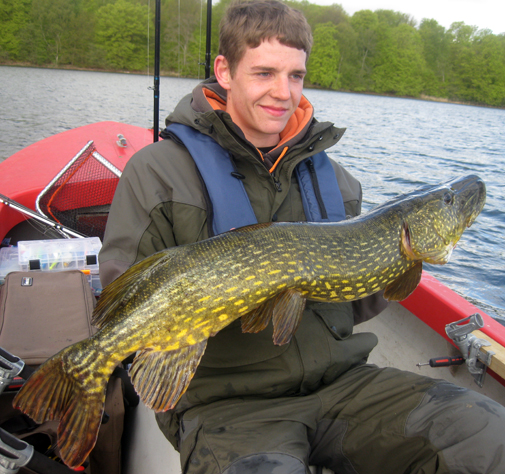 Frederik Schramm fra Fredensborg med weekendes største gedde – et eksemplar på 6,5 kilo.WEEKENDEN STARTEDE for de to unge fyre, Mikkel Altmann og Frederik Schramm, tidligt, eftersom der var store bededag. Hele den forlængede weekend var afsat til geddefiskeri på Esrum sø.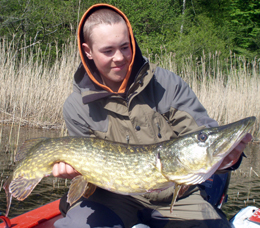 Mikkel Altmann med sin største gedde på 5,25 kilo.
Fredag skete der ikke det store trods perfekte forhold, fortæller Mikkel, hvor det blev til fire gedder op til tre kilo, som var alene i båden.
Lørdagen var lidt bedre og Mikkel fik selskab af Frederik. De fiskede med fire stænger, og det lykkedes dem at få seks gedder fra 1,0 – 5,25 kilo.
Søndag var der konkurrence, som nævnt i går her på fiskogfri.dk, i fiskeforening Fred & Humle. Og der var væsentligt mere gang i fiskeriet.
– Vi oplevede både dobbelt, tribbelt og firedobbelt hug i løbet af dagen, noget som vi aldrig har prøvet før. Vi havde i løbet af dagen haft kontakt til over 20 fisk. Da det var tid til indvejning havde vi 12 gedder i båden med en snitvægt på ca. tre kilo, fortæller Mikkel.
– Altså blev det til 23 gedder i løbet af weekenden med de to største på 5,25 kilo og 6,50 kilo. Alle fiskene blev sat ud igen, slutter Mikkel.