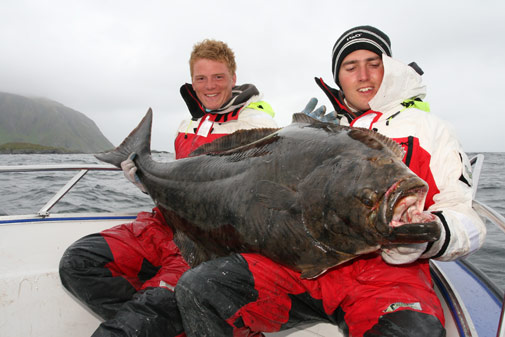 Thomas Sanotra´s kammerater Jakob og Nikolaj med en flot 55 kilos flynder taget på Volker Dapoz´s Giant Jighead.
FISK & FRI skrev i maj-nummeret om det fantastiske helleflynderfiskeri i området omkring Tromsø. Siden da har mange danske havfiskere besøgt stedet med stor succes – blandt dem Thomas Sanotra og hans fiskekammerater.
THOMAS SANOTRA, produktchef hos Fairpoint Outdoors, gæstede på en test tur i starten af Juli norske Tromsö, hvor Nordic Sea Angling er i gang med at etablere endnu en fiskecamp. Der blev fisket fire dage efter helleflynder på en lang række forskellige positioner både inden- og udenskærs. Fiskeriet var fantastisk, og i alt blev det til 21 helleflyndere til fire mand med de to største på 55 kg og 47 kg. De fleste af fiskene blev fanget på en nyudviklet jig – "Giant Jighead", som er udviklet i samarbejde med den innovative tyske havfisker Volker Dapoz. Fairpoint Outdoors A/S har nu lavet en samarbejdsaftale med Volker og vil i fremtiden distribuere hans originale produkter.
Redaktionen holder sommerferie og opdateringen er hjemmesiden er derfor sporadisk de næste to uger.
God sommer