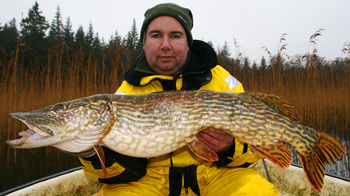 Michael Ditlev Lemming ses her med dagens største gedde på hele otte kilo. Den anden gede han fangede var 300 gram slankere og vejede 8,5 kilo. 16.02.09 – MICHAEL DITLEV LEMMING og hans fiskekammerat Mick Froberg er begge fra Silkeborg og har været en tur i en lokal sø på jagt efter de sultne vintergedder. Egentlig var turen blot en testtur af nye fiskemetoder og desværre har Michael ikke oplyst noget om detaljerne ved disse metoder andet end at skaller er en del af det. Uanset hvad, så må resultatet af de ny metoder siges at være ret imponerende. To fede gedder på henholdsvis 8,5 kilo og 8,8 kilo lod sig overliste og måtte stille op til fotografering i båden. Også en enkelt sandart blev det til.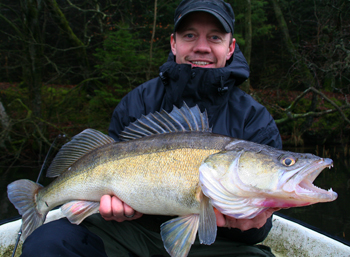 Mick Froberg nød også godt af den nye metode. Her ses han med en flot sandart på 5,5 kilo.
Det var Mick Froberg der stod for den fangst. Sandarten på 5,5 kilo blev legeledes fanget på en skalle. – Selv om jeg ikke fik dagens største sandart, så toppede jeg på en 8,8 kilos gedde, fortæller Michael Ditlev Lemming til Fisk & Fri. – Så for mig var de nye metoder og fangsterne resultatet af endnu en god tur, slutter han. To ottekilos gedder på samme dag må være særdeles tilfredsstillende for mange geddefiskere.
Vi glæder os derfor til at høre mere om de nye metoder, så vi kan dele det med de sultne læsere.