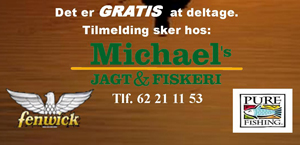 MICHAEL'S JAGT & FISKERI afholder i samarbejde med Pure Fishing kastedemonstration lørdag d. 7. Marts fra 12-17 på Ollerup Højskole på Fyn. Skal du have finpusset dine kasteteknikker til det danske kystfiskeri eller forberedt to-hånds teknikkerne til de Norske elve, så har du nu chancen.
Hans Lindegaard fra Federation of Fly Fishers Denmark vejleder og demonstrer de mange stænger fra Fenwick. Du har også selv mulighed for selv at teste en- og to-håndsstænger fra Fenwick, samt tilhørende flueliner. Arrangementet kræver ikke tilmelding og er gratis.
Læs mere om arrangementet her.