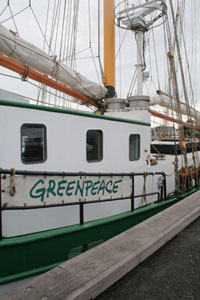 Greenpeace-skibet Beluga II ligger til kaj i Gilleleje indtil fredag eftermiddag, og indtil da har du mulighed for at besøge skibet og blive klogere på skibets kommende aktion. 05.08.09 –LYSTFISKERE, MILJØAKTIVISTER OG DESLIGE har frem til d.7august mellem kl.10-12 og 14-17 mulighed for at komme en tur ombord på Greenpeace-skibet Beluga II, som i øjeblikket ligger til kaj i Gilleleje Havn. Ombord på skibet vil du kunne få en snak med Greenpeace's havekspert om marinereservater, miljøproblematikker og miljøaktivisme.
Blandt andet kan du blive klogere på Greenpeace's forestående aktion, som finder sted i august i de to såkaldte Natura 2000 områder. De to områder – Fladen og Lille Middelgrund, som ligger i den svenske Kattegat tæt på Læsø og Anholt, er udset fordi der til trods for områdernes beskyttede status, foregår et omfattende bundtrawlfiskeri. Greenpeace intenderer at sænke store sten på havbunden, som skal besværliggøre trawlfiskeriet i områderne, og sikre bestandene af fisk.
Du kan læse mere om marinereservater her.