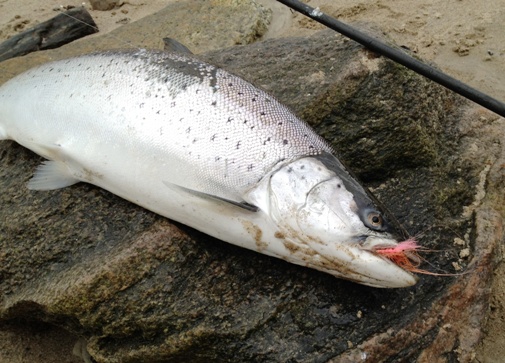 Denne havørred på 4,8 kilo er den største, som Lars Jensen har taget på kysten. Den huggede på en Pattegris fisket efter et bombardaflod. 07-04-2012 – DEN 31. MARTS var Lars Jensen taget til Haderslev Fjord sammen med makkeren Ejnar Haggesen for at fiske to timer inden han skulle på arbejde.
Lars riggede en 13 fods stang til med bombarda, og for enden af forfanget sad en Pattegris. Efter at have spottet et par fisk i overfladen kom hugget.
– Min 13 fods Kinetic kom da også på arbejde, og presse for hårdt kunne jeg jo heller ikke med 0.20 nylonline på. Et par hidsige udløb skulle der til, før den var medgørlig, men der var dog lidt dramatik til sidst, hvor den selvfølgelig tog udløb omkring Ejnars ene ben. Men på land kom den, fortæller Lars.
Havørreden vejede 4,8 kilo med en længde på 71 centimeter, og er den første store havørred, som Lars har taget fra kysten.
Stort tillykke med det!