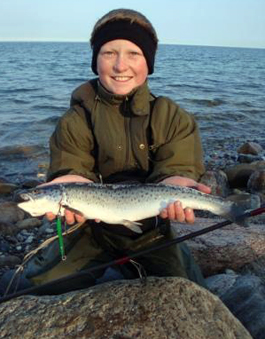 Michaels debuthavørred på 0,825 kilo blev en realitet efter to års jagt.
20-04-2012 – DEN 14. APRIL VAR unge Michael Malling Christensen fra Nørre Alslev taget til Næsgård for at kystfiske sammen med sin far og fiskekammeraten Ulf.
På trods af mange nulturer – ja, faktisk havde han kæmpet i to år med at få fat i en af de sølvblanke, så lykkedes det efter 45 minutters fiskeri.
Først fulgte fisken Michaels grønne Flipper helt ind til stangspidsen, for i et af de efterfølgende kast at sætte sig på krogen i stedet.
På land kom en sølvblankt eksemplar af en havørred på 46 centimeter med en vægt på 0,825 kilo. Dagen bød på endnu en havørred – dog et mindre eksemeplar som blev genudsat.
Dagen efter var han igen at finde på spottet – og minsandten om han ikke fik endnu en havørred over målet!