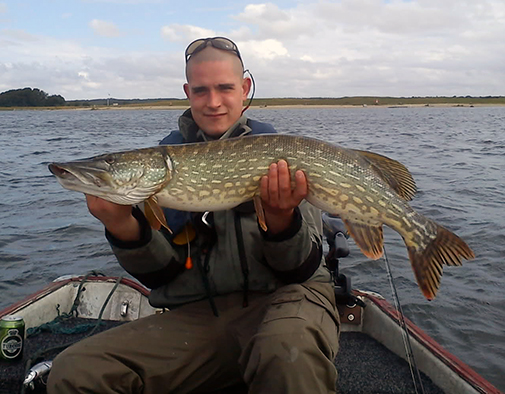 Rasmus Troelsen fik begge dagens to største gedder – begge var på 100 centimeter.
30-07-2012 – RASMUS TROELSEN fra Viborg var den 21. juli taget ud på en hemmelig sø i det midtjyske sammen med makkeren Marc Hansen. Det var noget nyt fiskevand som skulle afprøves. Søen er forholdsvis ny, fra 2003, så de havde ikke de helt store forventninger.
Båden blev søsat – det samme gjorde woblerne. Der går ikke mere end 5 min før de fik dagens første dobbelt hug. To små rigtig pæne pindegedder kom om bord – og så var dagen ligesom startet.
– Vi får hurtigt flere små gedder og er faktisk helt overrasket over det her. Der er rigtig godt gang i den. Efter lidt tid får jeg en rigtig, rigtig flot gedde på 100 centimeter, fortæller Rasmus.
Da dagen var omme var 14 gedder kommet forbi båden med fisk på 100 og 100 og 95 centimeter som de største, hvilket hverken Rasmus eller Marc havde regnet med.