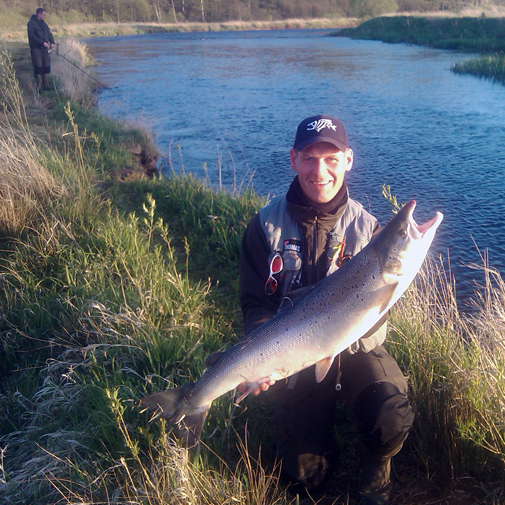 Thomas Feddersen med ny personlig rekord laks på 9,05 kilo taget på en FC spinner i Varde å.21-05-2012 – FORLEDEN berettede Thomas Feddersen om en flot havørredfangst i Brede Å. Et par dage forinden havde han sammen med et par venner – alias Fiskebanden – været et smut i Varde Å.
Der blev købt dagskort til zone 1 fra tidlig morgenstund. Igen var det spinnestangen med en FC spinner, som gjorde udslaget. Efter to timer var den første laks på land en realitet. Fisken blev nænsomt genudsat. Ved aftenstid var de ved at være udbrændte, men Thomas Feddersen overtalte gutterne til at blive lidt endnu.
Der sker dog ikke meget. Men til allersidst, da kommer spinneren til syne en meter fra egen bred, ser Thomas pludselig et kæmpe gab nedefra som tager spinneren. Fisken tager tre lange udløb, to opstrøms og et nedstrøms.
– Jeg kan tydelig mærke, at det er en stor fisk. Stangen er godt spændt. Laksen hopper fri af vandet to gange, og da jeg ser den, er jeg sikker på, hvis jeg får den op, at det er ny personlig rekord. Der bliver fightet i 14 minutters tid, før jeg vinder kampen, fortæller Thomas.
Laksen vejede 9,05 kilo med en længde på 98,5 centimeter.