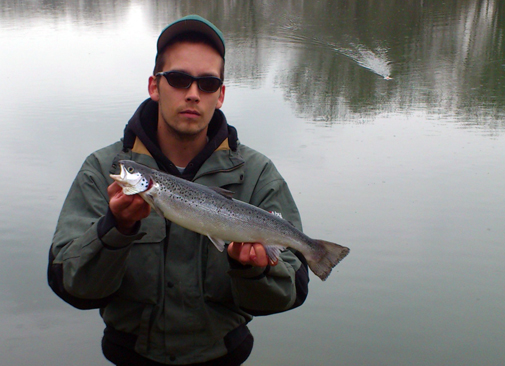 Daniel Kromand fortæller, at denne laks på 52 centimeter er den flotteste af de mange fisk, han har fanget i put and takes igennem tiderne.
Martin Petersen med sin største laks – taget på bombarda med flue.24-04-2012 – I GÅR KUNNE vi berette om laksefangster i Solbjerggård. Men det er også udsat i Iglekær Put and Take, fortæller Daniel Kromand Larsen.
Den 13. april fangede han således sin første laks overhovedet, hvor også hans makker, Martin Petersen, var med.
– Vi var så heldige at fange to styks hver. Jeg mistede en laks på tre-fire kilo, men da jeg overhovedet ikke kunne holde den, blev fluen rykket ud af dens mund. Men fik en flot blank laks lidt efter på 52 centimeter. Da dagen var omme havde vi fanget fire laks og ni regnbueørreder, slutter Daniel.