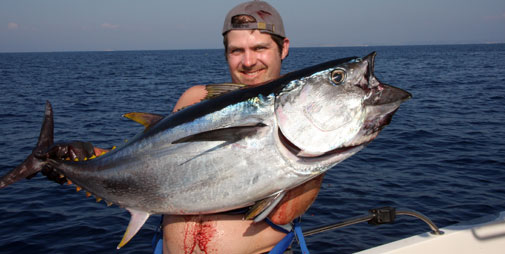 Andreas Holm med et bomstærkt muskelbundt af en tun fra kroatisk farvand.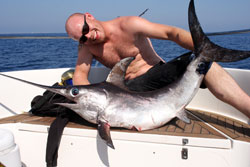 Også andre arter, som fx denne "næbfisk" havde det danske makkerpar held til at få i båden. 11.10.09 – FISK & FRI's skribent Andreas Holm Nielsen er vendt hjem fra en tur til Kroatien, hvor han og kammeraten har deltaget i Big Game konkurrencen i Jezera. Kroatien har udover noget yderst interessant ørredfiskeri i ginklare kalkstensfloder også noget spændende Big Game fiskeri.
To danske hold var repræsenteret til konkurrencen i Jezera, og de fik henholdsvis en 6. og en 17.plads ud af i alt 60 både. Andreas' egen båd fangede 5 hårdtfightende blåfinnede tun mellem 30 og 55kilo, en sværdfisk på 25kilo, en mindre rokke og en "lille" klumpfisk på 126centimeter og en anslået vægt på hele 60kilo. Det danske hold må altså siges at have haft rigtig god succes med foretagendet. Læs mere om konkurrencen og Andreas Holms tur i den kommende nov. udgave af Fisk & Fri.