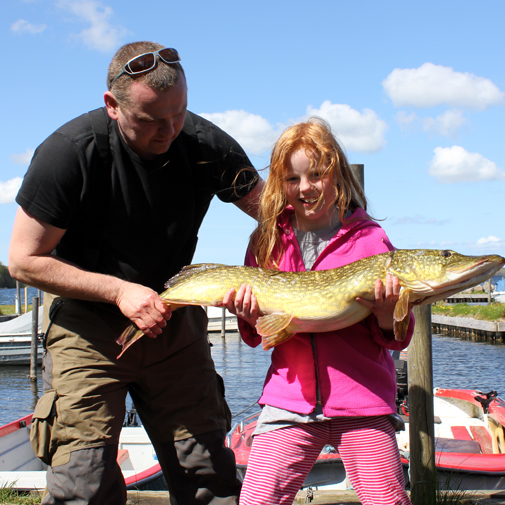 Unge Klara med en flot gedde på 7,25 kilo, som indbragte hende en anden plads i Esrum Open. Den huggede på en Westin Jätte wobler.11-05-2012 – SØNDAG DEN 6. MAJ deltog Klara Ingels Larsen med sin far, Jesper Larsen, i Fred & Humlet´s fiskedyst – Esrum Open. Med i båden havde de to venner, Oliver og hans far Peter.
– Vi skulle lige finde gedderne, og på to af min fars hot spots fik vi også godt med gedder. Oliver og jeg havde trukket lod om rækkefølgen, og jeg blev den første, som skulle fighte gedde, fortæller Klara og fortsætter.
– Og heldet ville, at da det blev min tur, at det var en pæn gedde, som havde hugget. Dagens fangst blev en gedde på 7,25 kilo, hvilket gav mig en flot 2. plads, og Oliver blev nr. 5, slutter Klara.