Jens Friis fra Grena a har været en tur med sin far i Fannerup Put and Take og det kom der to skønne regnbuer ud af.
– Jens og jeg ville lufte fluestængerne en sidste gang, inden Jens skulle rejse til Canada for at studere, fortæller Jens far, Jørgen. – Vi valgte at tage til P&T søen i Fannerup, selvom det nok havde været mere oplagt med en tur til kysten i det gode vejr.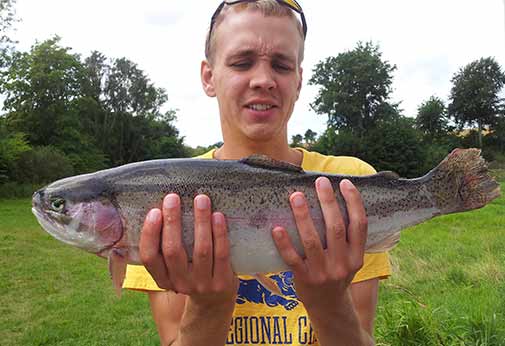 Som forudset, var der en del mennesker ved søen, men ingen liv i fiskene, da det var temmelig varmt. Jens vælger ofte at fiske med en lidt anderledes flue, og han valgte da også en lille undseelig streamer, medens jeg valgte en mere traditionel flue – en stor orange P&T-flue.
Den lille streamer var dog det bedste valg, for i løbet af 10 minutter havde Jens fanget to flotte regnbuer på hhv. 1,9 og 2,6 kg. De skulle lige listes ind, da forfanget ikke var så tykt, men ind kom de og de blev tilberedt på grillen til afskedsfesten inden han tog til Canada med bøger og naturligvis fluestang i bagagen.
Jens fik faktisk en mere flot ørred på krogen inden fiskeriet også døde for os i det gode vejr, men der måtte han erkende, at man skal huske at skifte forfanget indimellem, da det sprang ret hurtigt under fighten, slutter Jørgen.