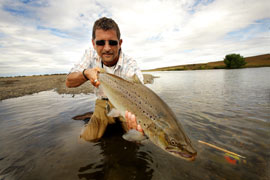 Her ses Klaus Frimor på "arbejde" DET ER IKKE HVER DAG, at der bliver fejret 75 år jubilæum i lystfiskerkredse i Danmark. Men nu er tiden snart inde til et af slagsen. Herning Sportsfiskerforening kan nemlig den 20. september fejre sit store jubilæum. Og i denne anledning har de skaffet to rigtig dygtige herre fra branchen, nemlig Klaus Frimor fra Loop og Bjarke Horst fra Scierra som begge vil vise grej frem til evt. demonstration. De to herrer har tidligere medvirket til artikler i Fisk & Fri om bl.a. fluekast og kyst og å fiskeri.
Der vil ydermere være et par konkurrencer med gode præmier. Læs mere om hele arrangementet på: www.herning-sportsfiskerforening.dk
Se den seneste grejnyhed her.