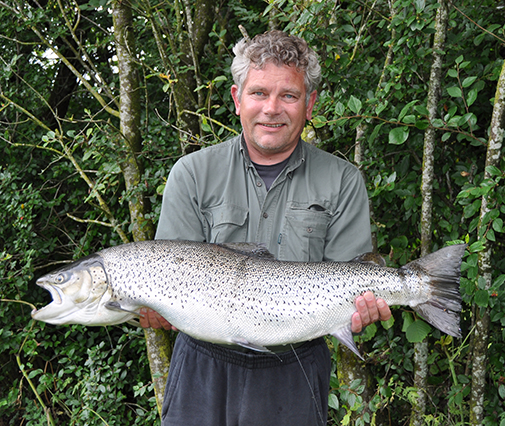 Henrik Stubkjær fra Fyn tog denne havørred på 8,2 kilo på en wobler den 13. juli.INDEN SOLEN for alvor kiggede frem i denne uge var det noget grå og våde danske sommervejr tilgengæld godt for forholdene i Karup å.
Her har den noget våde sommer betydet, at Karup Å har fisket særdeles godt. Fra den 13. juli til og med 19. juli er der indrapporteret fangst af 106 havørreder.
Største fisk er en havørred på 9,1 kilo, men der er selvfølgelig også på denne tid af året en del mindre fisk imellem fangsterne. Mindre forståes som fisk mellem 1-3 kilo. Det er ikke bare en enkelt eller to fisk over 5 kilo, som er fanget: De fem største er på: 9,10 kilo, 8,60 kilo, 8,20 kilo, 7,50 kilo og 7,20 kilo.
En af de lystfiskere som ofte gæster Karup Å er Henrik Stubkjær fra Fyn, som inden for et døgn fangede to flotte havørreder på henholdsvis 5 og 8,2 kilo.
To andre lystfiskere fangede i løbet af kort tid ni havørreder med den største på 5,6 kilo omkring Hagebro. Det er værd at bemærke, at der ikke er indrapporteringspligt for alle foreningerne ved Karup Å. Så 106 havørreder er lavt sat.
Husk Karup Å Fiskekonkurrencen 2012 i dagene 10.-12. august. Se mere på www.karupaa.com overskuddet går til vandløbsresturering.
Følg os på facebook på https://www.facebook.com/KarupASammenslutningen